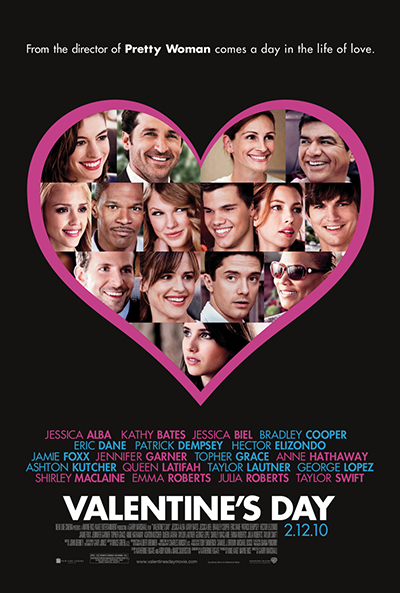 Valentine's Day
2hr 5min
Comedy/Romance
12/12/2010 (Theatrical)
Intertwining couples and singles in Los Angeles break-up and make-up based on the pressures and expectations of Valentine's Day.
Directed by:
Garry Marshall
Written by:
Katherine Fugate/Abby Kohn
Produced by:
New Line Cinema
Starring:

Jessica Alba as Morley Clarkson
Kathy Bates as Susan
Jessica Biel as Kara Monahan
Bradley Cooper as Holden
Eric Dane as Sean Jackson
Facts & Trivia
Filmed in Los Angeles, California, USA.
Julia Stiles auditioned for the role of Kara, but lost to Jessica Biel.
Katherine Heigl was considered for a role in the movie but was dropped because of salary demands.
Garry Marshall and Jessica Biel worked together in the short film, Hole In The Paper Sky
The film opened Valentine's Day weekend 2010 and grossed over 54 million dollars.
Awards & Nominations
ASCAP Film and Television Music Awards – Top Box Office Films (Won)
Casting Society of America – Outstanding Achievement in Casting – Big Budget Feature – Comedy (Nominated)
MTV Movie Awards – Best Kiss, Taylor Swift & Taylor Lautner (Nominated)
People's Choice Awards – Favorite Comedy Movie (Nominated)
Teen Choice Awards – Choice Movie: Hissy Fit, Jessica Biel (Nominated)