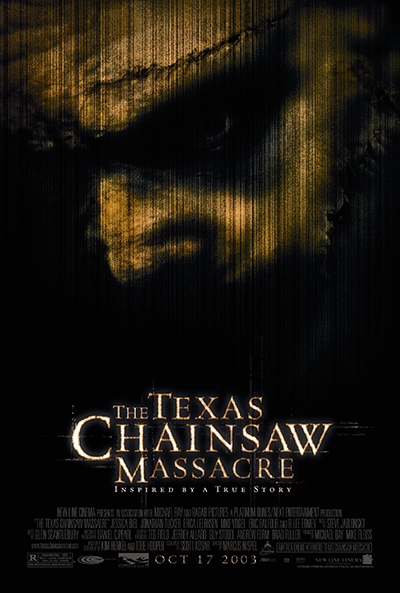 The Texas Chainsaw Massacre
1hr 38min
Horror
10/17/2003 (Theatrical)
A tale of five 20-somethings whose freespirited roadtrip becomes a terrifying descent into madness. When they find themselves isolated in a rural Texas community, they fall into the clutches of a monstrous clan of Texas cannibals and find themselves being whittled away by the chainsaw-wielding Leatherface.
Directed by:
Marcus Nispel
Written by:
Scott Kosar, Kim Henkel, Tobe Hooper (1974′s Screenplay)
Produced by:
New Line Cinema
Focus Features
Radar Pictures
Platinum Dunes
Next Entertainment
Chainsaw Productions LLC
Starring:

Jessica Biel as Erin
Jonathan Tucker as Morgan
Mike Vogel as Andy
Erica Leerhsen as Pepper
Eric Balfour as Kemper
Facts & Trivia
Lauren German, who plays the Hitchhiker, originally auditioned for the role of Erin.
Katie Holmes was considered for the part of Erin.
Banned in Ukraine by Ministry of Culture.
Erin's last name was supposed to be Hardesty, the same last name as lead character Sally (Marilyn Burns) from the original The Texas Chain Saw Massacre (1974).
A then unknown John Larroquette provided the narration in the original The Texas Chain Saw Massacre (1974). Despite becoming a distinguished actor in the years since, he happily agreed to reprise his role for the remake.
Gunnar Hansen was asked to play the role of the trucker in the end of the film.
A deleted subplot detailed Erin being pregnant, which was why, when they went to Mexico, she didn't "drink the water" or "smoke the weed", as they talked about in the final cut.
Jessica has her own action figure from the movie.
Jessica was nominated for Best Actress at the Academy of Science Fiction, Fantasy & Horror Films.
Jessica was nominated for Breakthrough Female Performance at the MTV Movie Awards.
Awards & Nominations
Academy of Science Fiction, Fantasy & Horror Films – Best Horror Film (Nominated)
Academy of Science Fiction, Fantasy & Horror Films – Best Actress, Jessica Biel (Nominated)
Fangoria Chainsaw Awards – Best Actress, Jessica Biel (2nd Place)
Fangoria Chainsaw Awards – Best Supporting Actor, R. Lee Ermey (2nd Place)
Fangoria Chainsaw Awards – Best Wide-Release Film (3rd Place)
MTV Movie Awards – Breakthrough Female Performance, Jessica Biel (Nominated)
Teen Choice Awards – Choice Movie – Thriller (Won)