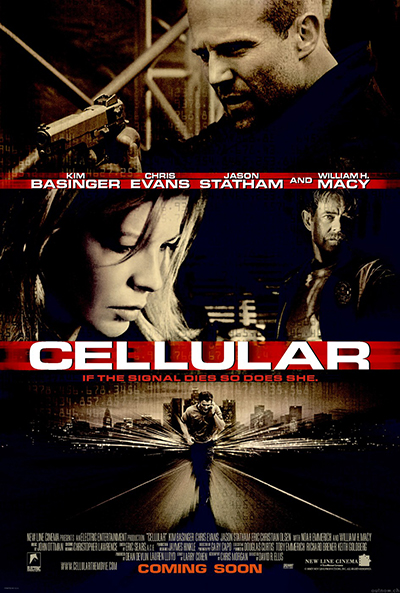 Cellular
1hr 34min
Action/Adventure
9/10/2004 (Theatrical)
A random wrong number on his cell phone sends a young man into a high-stakes race against time to save a woman's life. With no knowledge of Jessica Martin other than her hushed, panicked voice on the other end of the tenuous cell phone connection, Ryan is quickly thrown into a world of deception and murder on his frantic search to find and save her.
Directed by:
David R. Ellis
Written by:
Larry Cohen (Story), Chris Morgan
Produced by:
New Line Cinema
Starring:

Chris Evans as Ryan
Kim Basinger as Jessica Martin
William H. Macy as Sgt. Bob Mooney
Jessica Biel as Chloe
Facts & Trivia
When Ryan is at the LAX, you can hear the boarding call for "Flight 180 to Paris". That is the same plane that blew up in Final Destination (2000), also from New Line Cinema.
Several references to New Line Cinema (the financing studio) throughout the film: New Line Chairman Robert Shaye has a cameo as the irate man in the police station. Ricky's backpack is that of The Lord of the Rings: The Fellowship of the Ring (2001). At the kidnappers' house, the New Line Cinema movie Final Destination 2 (2003) is playing on the television. Producer 'Dean Devlin' has a cameo as the cab driver who drives Ryan.
The tattoo on Ryan's right arm is the Japanese Character for "Loyalty" and "Honor", the defining heroic trait of this otherwise completely ordinary boy.
Awards & Nominations
Academy of Science Fiction, Fantasy & Horror Films – Best Supporting Actress, Kim Basinger (Nominated)